HEADS UP!!
The Color My Bundle Sale is now over, but you can purchase my contribution now,
FLOWER SKULLS in the store.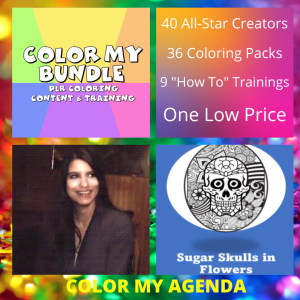 ————————————————————————
Here's are some of the updates for the last week……
———————————————————————–
On The Daily Life Agenda Blog
 Earning Online Series – 2 Quick and Easy Ways to Earn
2: Quick and Easy Ways to Make Money OnlineWhen it comes to looking for a way to earn money online, we all search for the right 'gig' to earn a full time income and get out of the 9 to 5 rat race.
Here are some ways you can make money online without a lot of effort. Transcribe Audio – More websites are beginning to offer written transcriptions for those that are hearing impaired, which makes a transcriber's job in demand.
———————————————————————–
Enjoy, ColorMyAgenda