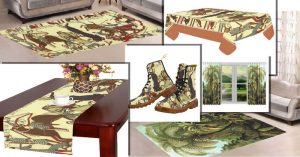 What is Noir Designs
Custom artwork printed on quality silks and fabrics. Each item is created at time of order. Because these are each individually created, there may be slight differences from the photos depicting items in the position of the designs. I use several platforms and markets to sell my art and designs, you will find my favorites and best depicted here, with links to the markets you can find them on.
Occasionally, I create a wearable, or home decor item, with a limited design. In this case you may find it exclusively on here only, and production of the item will be limited to just a few (10 – 30 depending on the individual item)
Who Am I
Angela Hobbs owner/designer
I am in love with graphics, and I love color and the feel of things. Silks are certainly my favorites, but anything fluid, soft, and silky is fine by me.
My goal is to use my graphic ideas and talents to create one of a kind, beautiful clothing and accessories for anyone to feel happy and bright when wearing them.
Check my shops and links for different designs, because you will find everything from clothing, to home decor and wall art! Visit me on Pinterest, Twitter, Facebook and more. I love new friends!
We have so many items not in the Boutique in several market outlets. 
I know you will find something you will love in one or more of them!
NOIR DESIGNS Exclusive UK STORE
WANT TO MAKE AND PURCHASE YOUR OWN T'S & ACCESSORIES?
USE OUR DESIGNS & TEMPLATES OR UPLOAD YOUR OWN ARTWORK!
CLICK HERE TO GO TO OUR ONSITE STUDIO APP DESIGNER!