Description
DONE FOR YOU "biz-in-a-box" featuring a HOT new video coaching series…
Here is your chance to get a top quality video course to sell to your clients and customers. Everything you need is in this product, including a ready to use sales page if you don't want to create your own.
Not only do you get a great new product you can sell – you will be getting a READY sales website included for no extra cost!
Just add your order button to the ready-made page and you can be making sales instantly.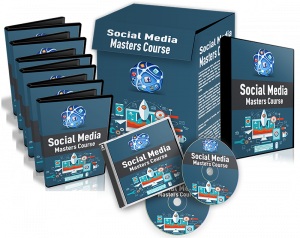 Just Add Your Order Button & Start Reselling For 100% Profit!

Become A Social Media Master!If you've wanted to discover how to get the most from social media marketing, get more traffic to your offers and make even more money, this is for you…
The most powerful Social Media Marketing methods.
Works with different platforms to maximize profits.
Curriculum For This Course
What Social Media Marketing Is And What It Isn't                                        
8 Reasons Why You Need To Do Social Media Marketing 
Modify Your Social Media Marketing Campaigns Based On Your
Online Business Type
The Classic Way To Do Social Media Marketing And Why It Is A
Waste Of Your Time
10 Steps To Faster And Easier Social Media Marketing           
How To Do Niche Research And Targeting The Right Way                     
Content Curation: Your Secret Social Media Marketing Weapon 
Reverse Engineer Your Competitor's Top Content                                     
Fine Tune Your Payload Content 
Market To Your List For Maximum Profits
Unlock the Power of Repurposed Content                                                        
Use Automatic Content Sharing                                                                              
Scale Up Your Targeting                                                                                         
Sell to Your List Differently                                                                                    
Reinvest Your Profits the Right Way                                                                                                                 
Course Description
If you're trying to market your business with social media and earn more money online, you've come to the right place!
In this course, you will discover exactly how to market your business using Social Media, proven strategies, tools and resources to run effective campaigns, plus how to fine tune, repurpose, and share your content automatically.I go to great lengths to make this course informative, complete and easy to understand. I help you filter out the jargon and explain at a deep level how things really work.
Who Is This Course For?
* This course needs no prior experience with Social Media or online marketing to make it work.
* If you can follow simple steps, watch the videos and take action, you can apply this course easily.
Social Media Masters Course – Video Training
15 Video Lessons + Intro & Conclusion
More Than 90 Minutes of Content!
MODULE #2 – PDF Companion Guide
Social Media Masters Course – PDF Companion Guide
99 Page Social Media Companion Guide with Step By Step Plans & Strategies 
Auto Social Traffic – Software
Powerful Software for WordPress that allows you to Drive Traffic From 8+ Social Sites On AutoPilot!
Step By Step Installation Instructions & Demo Video + Detailed Tutorials Included.