HEADS UP!!
The Color My Bundle Sale is now over, but you can purchase my contribution now,
FLOWER SKULLS in the store.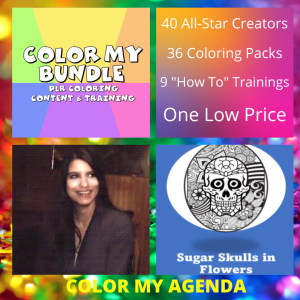 ————————————————————————
Here's are some of the updates for the last week……
———————————————————————–
On The Daily Life Agenda Blog
 Earning Online Series – 2 Quick and Easy Ways to Earn
2: Quick and Easy Ways to Make Money OnlineWhen it comes to looking for a way to earn money online, we all search for the right 'gig' to earn a full time income and get out of the 9 to 5 rat race.
Here are some ways you can make money online without a lot of effort. Transcribe Audio – More websites are beginning to offer written transcriptions for those that are hearing impaired, which makes a transcriber's job in demand.
———————————————————————–
AND if you go to the Blog above to read the rest of the story, you can get a Free PLR Affiliate Pack of Articles. Find it under the SUBSCRIBE link in the menu at top! You will be subscribing through Mailer Lite which sends out alerts for new posts and shop items from the main store, and all new subscribers get moved to the main list on SendFox where newsletters are sent. Even if you are already on my mailing list, you can still subscribe. If you have trouble with that, just email me and I willl send you a link to the package!
Enjoy, ColorMyAgenda